SONIA'S STORY 
WHY DID YOU VOLUNTEER?
I enjoy volunteering as it enables me to work and socialise with lots of different people that in my day to day life I would never come across or get to know. Events are exciting to set up and organise, and the atmosphere amongst the volunteers and participants is always upbeat and cheerful – no matter what the weather! Everyone is out to do their best on the day. It's a challenge. It's meant to be tough and seeing people give their all to achieve rubs off on me too; keeping me inspired and motivated to give everything I have to help others on the day or weekend.
I would totally recommend that everyone tries volunteering at least once this year. It's been a long haul getting out of the Pandemic. It's so exciting being involved in such good fundraising activities; knowing that your small contribution will help someone, somewhere. Also, it's too much fun not to get involved and join in to make an event happen!
A DAY IN THE LIFE OF A VOLUNTEER
I did two amazing events last year.
Race to the King –  we started at Goodwood, where I helped to see the runners off, then headed over to basecamp where I helped to manage the car park entry gate. I also helped give participants refreshments and stocked runners up on energy gels and other goodies from the neighbouring tent. I then spent time at a pit stop making sure that runners who came through were well stocked up on their Coca-Cola. In between I put up some flags, took them down at the end, took full trolleys over to the back stock room area, got rid of rubbish bags from the back of main tents and generally had a good time chatting to everyone I met along the way.  Best of all was cheering the runners into pit stop and base camp and cheering them off again.
London Revolution – I helped with creating a sign for the yoga tent, putting out banners onto the barriers, checking participants who had booked tents, re-stocked tables with free supplies, helped with clear up by cleaning all the bin signs and filling up the rubbish bags into the big white bags whilst chatting to participants and volunteer/staff. And I joined in with lots of cheering , singing and dancing as the riders came in at the finish line to help create the fantastic atmosphere that they expect when they have done something so gruelling and worthwhile.
WHAT DID YOU FIND UNIQUE ABOUT VOLUNTEERING FOR THRESHOLD SPORTS?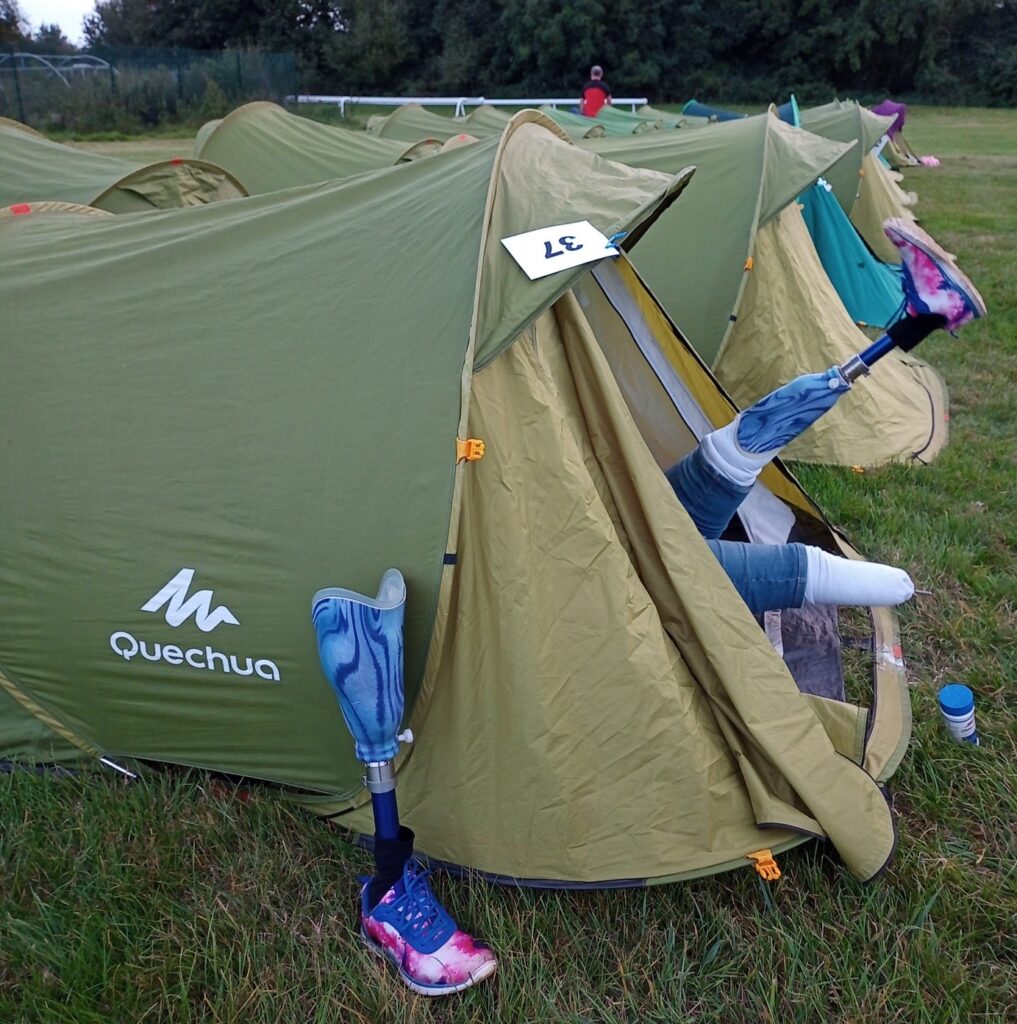 Camping! It's brilliant being able to get into a tent and feel totally connected with everyone at the campsite. The staff and the volunteers are so friendly, full of knowledge and absolutely happy to show you the way if you don't know what to do or how to do it.
Sonia has written her own book, Stumps & Cranks, to promote amputee cycling on how to get more amputees pedalling around and enjoying themselves too!
Volunteer for Threshold Sports 
WANT TO VOLUNTEER AND MAKE A DIFFERENCE IN YOUR LOCAL COMMUNITY? 
In 2022 Cycling Projects, the national inclusive cycling charity, launched a nationwide campaign to recruit and connect volunteers with disabled people, disability services and the charity's Wheels for All Programme, with the aim of giving more people with differing needs the chance to be active.
The #WeRideTogether campaign is appealing to those with a passion and interest for cycling and a desire to make a difference in their local community. You can pledge your support to the #WeRideTogether campaign here: https://cycling.org.uk/weridetogether